Details for purchasing tickets to performances in 2021 will be announced later in the fall of 2020. Learn more
Virginia Opera: La Voix Humaine and Gianni Schicchi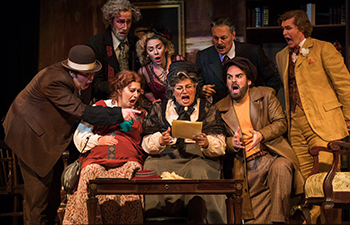 Virginia Opera returns to the Center for a double-bill of Francis Poulenc's La Voix Humaine (The Human Voice) and Puccini's Gianni Schicchi. An up-close-and-personal exploration of the whims of the human heart, La Voix Humaine is an intimate operatic adaptation of Jean Cocteau's 1928 play, sung by a single soprano. In her Virginia Opera mainstage debut, Jessica E. Jones performs the role of Elle. For the second part of the evening, Gianni Schicchi explores love's more jovial tones with a cavalcade of wry laughs and cheeky twists around every corner. Is true love even possible? In this case, yes—as long as you are willing to pose as a dead man and falsify some documents to smooth the way. But when has the path of true love ever been smooth—much less with a will in the mix? Gianni Schicchi includes one of Puccini's most beloved and breathtaking arias: "O mio babbino caro." Troy Cook sings the title role, Benjamin Werley the role of Rinuccio, and Jessica E. Jones returns to the evening's stage to play Rinuccio's love interest, Lauretta.
La Voix Humaine  Sung in French with English supertitles.
Gianni Schicchi  Sung in Italian with English supertitles.
$110, $70, $40
Details for purchasing tickets will be announced later in the fall of 2020.
Free student tickets are available two weeks prior to this event.