Alert for Buying Tickets Online: Some customers are experiencing delays when purchasing tickets online. We are working with the vendor to resolve this issue. Please call the Ticket Office at 703-993-2787 for assistance.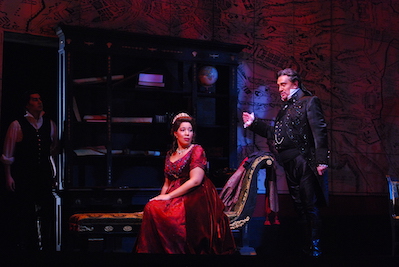 Buy Tickets  Subscribe and Save
Virginia Opera opens its 45th season with one of Giacomo Puccini's most acclaimed and performed works, Tosca. This tour-de-force opera features some of Puccini's best-known lyrical arias, including "Vissi d'Arte" and "E lucevan le stelle." Set in Rome on the brink of military invasion, this gripping story of romance, jealousy, intrigue, and murder follows a trio of tragic figures—a heroic painter, Cavaradossi; his jealous lover, Tosca; and a sadistic Police Chief, Scarpia, who sets the plot in motion by arresting Cavaradossi. The action is taut and lethal, spanning less than a single day, during which time no one—neither hero or villain—survives to the end. Lillian Groag directs a stellar cast in this production that surges with timeless passion, unforgettable characters, and an emotional musical score that will leave you breathless. Sung in Italian with English supertitles.
Tickets: $110, $70, $40
A pre-performance discussion begins 45 minutes prior to the performance, located on Monson Grand Tier. Seating is limited and opens 15 minutes before the pre-performance discussion.
Individual tickets go on sale August 1.
See Aida in Richmond!
Take a bus to Richmond for Virginia Opera's performance of Aida on Sunday, March 29, 2020
Free student tickets are available two weeks prior to this event.