Need help? For assistance accessing digital events at performance time, email stages@gmu.edu.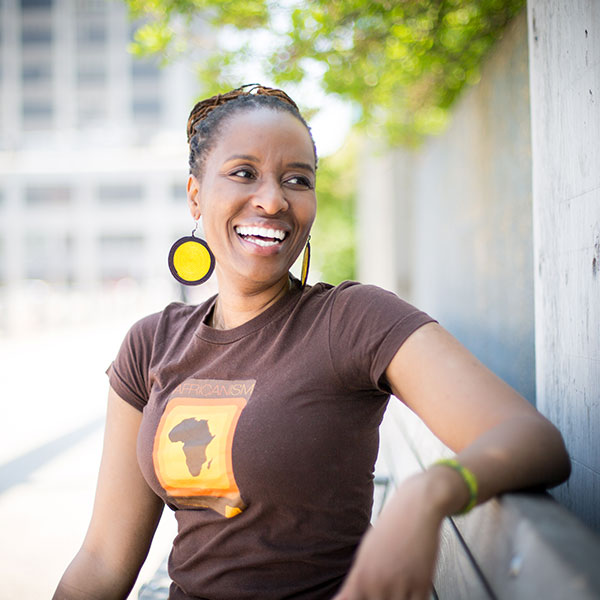 Mason Arts at Home
Visiting Filmmakers Series: Ekwa Msangi
Wednesday, Apr 07, 2021 6:00pm

Virtual Event Zoom Large Meeting
Watch the movie: Available one week before our event. 
Ekwa Msangi's award-winning and critically acclaimed feature film Farewell Amor premiered in competition at the 2020 Sundance Film Festival.
Farewell Amor tells the story of Walter and his family, reunited after 17 years apart, when he is forced to leave Angola for New York City. We meet the family as Walter is picking up his wife, Esther, and daughter, Sylvia, from the airport to bring them home to his one-bedroom Brooklyn apartment. They quickly discover how the years of separation have turned them into absolute strangers. As they attempt to overcome the personal and political hurdles amongst them, they rely on the muscle memory of dance to find their way back "home."
Farewell Amor is an immigrant story that has come to define the American landscape since its inception. It garnered 100% on Rottentomatoes, and was bought for distribution by IFC Films. 
Ekwa Msangi has written and directed several shorts, most recently award-winning comedy Soko Sonko (The Market King), and Farewell Meu Amor, starring Tony Award nominee Sahr Ngauja, and actress Nana Mensah of the famed series An African City. For Farewell Amor, Ekwa was awarded the Jerome Foundation Grant, Tribeca All Access Fellowship, Cine Qua Non Lab Fellowship, IFP/No Borders, and Sundance Feature Film Development Fellowship.
Ekwa has also written and directed several drama series for mainstream broadcasters in Kenya and MNET South Africa, including The Agency, MNET's first-ever original hour-long Kenyan drama series. In the past Ekwa has been adjunct faculty at Tisch School of the Arts, as well as a recurring mentor in Mira Nair's East Africa based Maisha Screenwriting Labs.
Currently, Ekwa is the resident educational instructor with the African Film Festival, and teaches Screenwriting at The New School and Feirstein Graduate School of Cinema, Brooklyn College. One of Ekwa's key goals as an artist is to transform our society's images and relationships with African cultures, and to empower African filmmakers in telling their stories.
More information about the event.