Need help? For assistance accessing digital events at performance time, email stages@gmu.edu.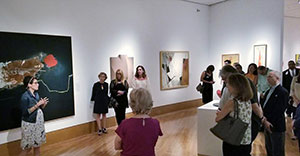 Mason School of Art
Visual Voices: Adriana Ospina - "Working at the Art Museum of the Americas - Latin America and Diplomacy"
Thursday, Oct 22, 2020 7:30pm

Virtual Event
The George Mason University School of Art Visual Voices Colloquium is a professional lecture series that invites nationally recognized visiting artists and designers to speak about their work and the world of art and design to students and the community at large. Presented in a digital format this Fall, the School of Art invites you to this intimate look inside four artists' minds, workshops, and practices.

Adriana Ospina is the Curator of the Permanent Collection and Educational programs at the Art Museum of the Americas (AMA). Her first major curatorial project was a traveling exhibition based on AMA's collection, Converging Cultures: Asian Diasporas and Latin American & Caribbean Art, 1945-Present. For this project AMA partnered with International Arts and Artists. She also organized a symposium on the occasion of the centennial of AMA's founding director José Gómez-Sicre's birth. This program sought to juxtapose Gómez-Sicre's promotion of Cuban art in the 1940s with the efforts of scholars, modern and contemporary art museums and other institutions, both in Cuba and the United States, in support of contemporary Cuban art.

This event will be streamed simultaneously on this webpage, Facebook and YouTube at the scheduled time.

To enable closed captioning, please navigate to the College of Visual and Performing Arts Facebook page or Center for the Arts YouTube channel. On Facebook, please click the gear icon for "Settings" in the bottom right of the video pane and toggle the Captions button to "ON". On YouTube, please click the "CC" button in the bottom right of the video pane.

FREE

Fall 2020 School of Art exhibitions will be held online at MasonExhibitions.org. Our students are creating work under challenging circumstances and many face increased financial hardship due to COVID-19. A gift of any size in support of scholarships will help School of Art students complete their education. Make a gift.

Image: Adriana Ospina in the galleries of the Art Museum of the Americas, where she is the curator of the collection.