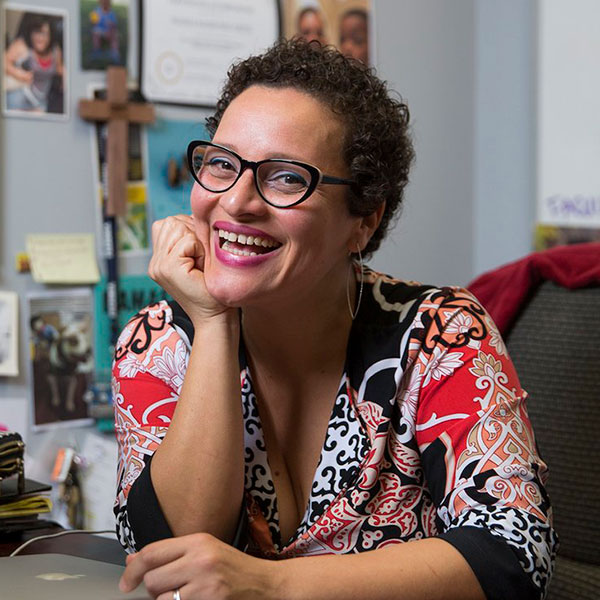 Mason School of Art
Visual Voices Lecture Series with Wanda Raimundi-Ortiz
Thursday, Feb 10, 2022 7:30pm

Virtual Event
Wanda Raimundi-Ortiz is an award-winning, interdisciplinary artist whose trans genre work spans video, performance art, installation, drawing, mural making, and spoken word. Raimundi-Ortiz's work reflects her Puerto Rican culture, concerns with contemporary society, and issues of intersectionality.
Raimundi-Ortiz's recognitions include 2021 Herb Alpert Award nominee, 2018 UCF Women of Distinction, 2017 UCF Luminary Award, 2016 Franklin Furnace award, 2016 USA Fellowship nominee, among others. She has exhibited both nationally and internationally. Exhibitions include Constant Storm at USF Contemporary Art Museum; the Smithsonian National Portrait Gallery's IDENTIFY: Performance as Portraiture series; Project 35: Last Call at the Garage Museum, Russia; The Florida Prize in Contemporary Art, Orlando, FL 2015; Manifesta 8, Spain 2010; American Chambers at the Gyeongnam Art Museum, South Korea; Performa 05 biennial at Artist Space, NY; The S Files 05 at Museo de Arte, Puerto Rico; Artist in the Marketplace 25 at the Bronx Museum of the Arts; and The L Factor at Exit Art, New York, among others.
Raimundi-Ortiz received her MFA in 2008 from Rutgers University's Mason Gross School of Art where she was a Ralph Bunche Fellow, which funds graduate students and scholars to study and support research on the conditions of Black life. She is also a 2002 alum of Skowhegan School of Painting and Sculpture. Raimundi-Ortiz is currently an associate professor of studio art at the University of Central Florida.