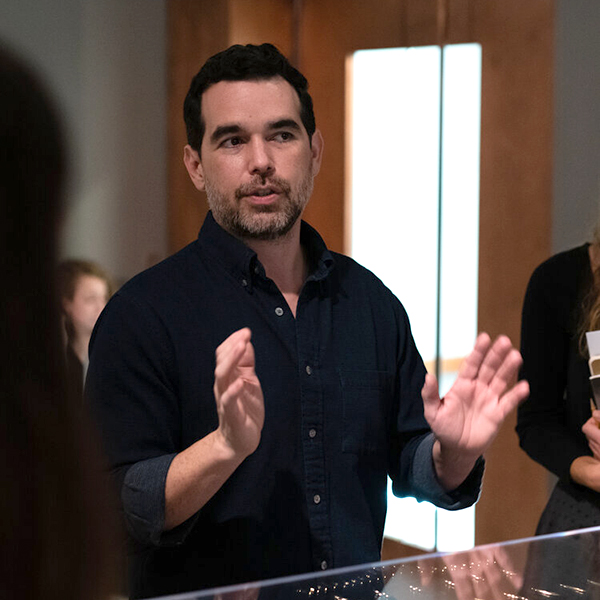 School of Art, Mason Exhibitions and Mason Arts at Home
Visual Voices Lecture with Dario Robleto
Thursday, Sep 23, 2021 7:30pm

Virtual Event
Dario Robleto is an American transdisciplinary artist, researcher, writer, teacher and "citizen-scientist". His research-driven practice results in intricately handcrafted objects that reflect his exploration of music, popular culture, science, war, and American history.  Robleto uses unexpected materials such as melted vinyl records, dinosaur bones, meteorites, glass produced by atomic explosions, lost heartbeat recordings from the 19th century, and he transforms these artifacts from the vast inventory of humanity's collective past into delicately layered objects that are sincere and personal meditations on love, death, eroding memory, and healing. Robleto has been a visiting artist and lecturer at many universities and institutions including Massachusetts Institute of Technology and the Hubble Space Telescope Science Institute. He has been a research fellow and resident at institutions such as the Menil Collection, Rice University, and the Smithsonian Museum of American History. In 2015 he joined a distinguished team of scientists as the artistic consultant to the "Breakthrough Initiatives"—the most comprehensive search ever attempted at finding scientific evidence of life in the Universe.
Visual Voices is the Professional Lecture Series of the School of Art and represents a window into the professional world of art and design. More information.
How to Watch
Registration is required
. Registered patrons will receive emailed instructions on how to access the live Zoom. A recording of the Zoom will be available for viewing a week after the event and will be embedded below.