Great Performances at Mason
Silkroad Ensemble with Rhiannon Giddens
Sunday
,
Nov.
05
at
7 p.m.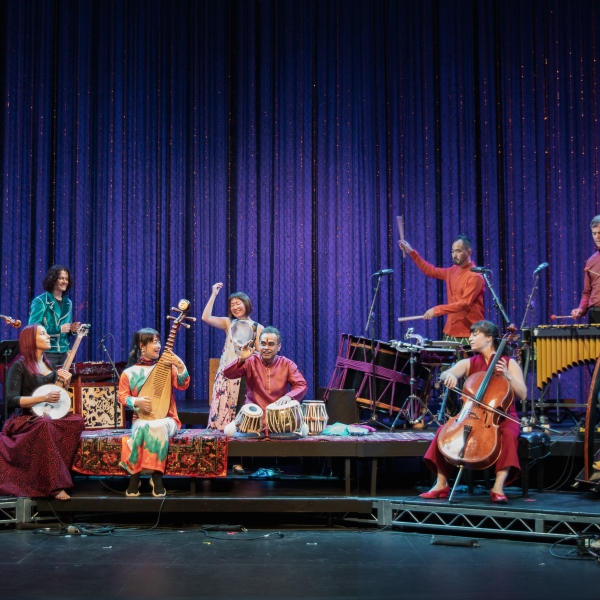 Mason Artist-in-Residence
WORLD PREMIERE
American Railroad
Returning for their second of three years as a Mason Artist-in-Residence, Silkroad Ensemble presents the world premiere of American Railroad, an initiative that maps American music through the various immigrant communities involved in building the late-1800s Transcontinental Railroad. Artistic Director Rhiannon Giddens joins the ensemble for this performance, which is told through the stories and sounds of African American, Chinese, Irish, Japanese, and Native American communities. Traditional instruments—such as the guzheng, pipa, erhu, and qinqin—cross paths with fiddles, bones, tambo, and banjo to remind audiences of America's intricately interwoven history.

Silkroad Ensemble is a GRAMMY Award-winning music collective founded by Yo-Yo Ma and now led by singer-songwriter and multi-instrumentalist Giddens. Its artists continue to drive social impact initiatives and educational programming alongside the creation of new music that celebrates the exchange of ideas, tradition, and innovation across borders. During their residency, Silkroad Ensemble will engage the community through a variety of events, classes, and discussions.

Featured Artists: *
Rhiannon Giddens, banjo/vocals 
Mazz Swift, violin/vocals 
Wu Man, pipa 
Sandeep Das, tabla 
Haruka Fujii, percussion 
Shawn Conley, bass 
Karen Ouzounian, cello/vocals 
Kaoru Watanabe, Japanese flutes/percussion 
Michi Wiancko, violin 
Francesco Turrisi*, frame drums/accordion 
Niwel Tsumbu*, guitar 
Pura Fé Crescioni*, lap-steel guitar/voice 
Yazhi Guo*, suona 

*Guest artist 

Projections by Camilla Tassi
*The artists in this program are subject to change.
This performance is appropriate for all ages.
Tickets: $60, $51, $36; half-price for youth through Grade 12
PERFORMANCE PROGRAM
The program for this performance will be available the week of the event.
View digital program.
BEFORE THE PERFORMANCE
A pre-performance discussion will take place in Monson Grand Tier, which is located on the third level of the Center for the Arts Lobby, 45 minutes prior to curtain.
FREE TICKETS FOR MASON STUDENTS
A limited quantity of free student tickets will be available for each event.
Learn more.
This program is sponsored by The Mather. 
This project is supported in part by the National Endowment for the Arts.