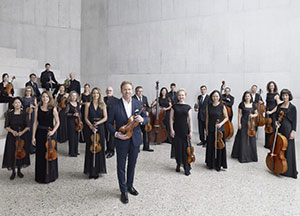 Buy Tickets  Subscribe and Save
Zurich Chamber Orchestra
Daniel Hope, violin
Vivaldi: The Four Seasons
Max Richter: Recomposed
Rediscover the beauty of The Four Seasons, both in its original form and also in a completely reimagined one. In this groundbreaking program, the Zurich Chamber Orchestra, led by music director and charismatic violin virtuoso Daniel Hope, pairs Vivaldi's iconic masterpiece The Four Seasons with neo-classical composer Max Richter's piece Recomposed. Written in 2012 specifically for Hope, his recording of Richter's piece topped classical music charts in 22 countries and received widespread critical acclaim. "It's a beautiful recomposition," The Independent raved, "with undulating string beds carrying Daniel Hope's lyrical lone violin lines." You won't want to miss this exciting classical concert that celebrates a masterwork and makes it new again.  
$48, $41, $29
A pre-performance discussion with Daniel Hope begins 45 minutes prior to the performance, located on Monson Grand Tier. Seating is limited and opens 15 minutes before the pre-performance discussion.
Individual tickets go on sale August 1.
Free student tickets are available two weeks prior to this event.