Alert for Buying Tickets Online: Some customers are experiencing delays when purchasing tickets online. We are working with the vendor to resolve this issue. Please call the Ticket Office at 703-993-2787 for assistance.
Virginia Opera: Cinderella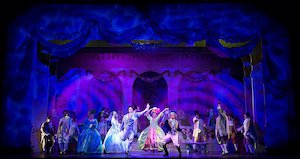 Buy Tickets  Subscribe and Save
Gioachino Rossini's Cinderella (La Cenerentola) is one of his funniest and best-known comic operas. Following on his success of The Barber of Seville, Rossini and librettist Jacopo Ferretti worked day and night to create this opera in just three weeks. The story differs somewhat from the classic fairytale: there is no fairy godmother, magic pumpkin, or even a glass slipper! Even so, this enchanting tale delivers with all of the glimmering splendor, the comic characters, and the happy ending, of course. Best of all, it includes Rossini's effervescent score with the epic orchestral storm before the Prince finally finds Cenerentola, and the arias "Miei rampolli femminini," and "Nacqui all'affanno...Non più mesta." Virginia Opera's production celebrates this classic tale with unforgettable performances while making this charming story new again for our audiences. Directed by Kyle Lang. Sung in Italian with English supertitles.
Tickets: $110, $70, $40
A pre-performance discussion begins 45 minutes prior to the performance, located on Monson Grand Tier. Seating is limited and opens 15 minutes before the pre-performance discussion.
Individual tickets go on sale August 1.
See Aida in Richmond!
Take a bus to Richmond for Virginia Opera's performance of Aida on Sunday, March 29, 2020
Free student tickets are available two weeks prior to this event.